Snoring is a common problem that many suffer from. It not only affects your quality of sleep but can cause severe pain in your face and throat as well. While there are various devices and medications you can use to help stop it, they aren't always the most effective and could be a little pricey. Because of this, you might want to consider using SnoreRx.
SnoreRx reviews show that this product not only helps to prevent snoring but can train your body to eventually stop doing so. To find out more about it, you'll want to keep reading.
What Causes Snoring and How does it work
https://giant.gfycat.com/InformalCooperativeBichonfrise.webm
https://www.snorerx.com/whyitworks
Things to Consider Before Buying an Anti-Snoring Mouthguard
An anti-snoring mouthguard works to prevent any snoring problems you might have. Because of this, if you're interested in combating your snoring issues, one of these devices is ideal to use. However, if you're a little unsure as to whether an anti-snoring mouthpiece would be right for you, there are plenty of other anti-snoring alternatives, such as nasal strips. However, if you do decide to invest in an anti-snoring mouthguard, you need to keep a few things in mind.
If it's Customizable
A good thing to consider in an anti-snoring mouthguard is if it's customizable. This is important as this will help to make sure that the mouthguard is comfortable for you to wear.
If it Can Prevent Pain Caused by Snoring
You should also make sure that the product not only helps to stop snoring, but can prevent pain often caused by snoring, like tension in your face and a locked jaw. This is because it reduces pressure around your face due to it keeping your upper and lower jaw slightly removed from each other (1)
How Easy it is to Clean Off
Another thing to look at is how easy the anti-snore mouthguard is to clean off. A product such as this is very important to clean off often as it can collect many different types of germs. However, doing so can sometimes be a problem for certain devices as they might require intricate and time-consuming cleaning. Because of this, it's good to look closely at how well you can clean the mouthguard off. (2)
SnoreRx Reviews
The SnoreRx is an anti-snoring device that works as a mouthguard. Made of hypoallergenic materials, the SnoreRx can be placed in your mouth and gently pulls your lower jaw out a few millimeters. This feature can be adjusted so the SnoreRx fits correctly in your mouth. You can also re-use it a few times if you need to customize it in a different way.
Pros
It's reusable.
You can customize it.
It's made of large and hypoallergenic materials.
Cons
This product might be a little uncomfortable at first.
It's meant to only be used on adults, not children, for snoring.
You can't use it with dentures or dental implants.
Features & Benefits
You'll find that SnoreRx comes with plenty of interesting features and benefits. Below are some you'll find it has.
It Helps to Calm Snoring and Pain
SnoreRx is designed to help calm extreme snoring. This is because it works to move the lower jaw (which can block your airways when you sleep) forward. Because of this, you'll find that your airways will remain open as you sleep. It will also prevent extreme discomfort that can be caused by snoring, such as a sore throat and dry mouth.
In addition to stopping snoring, SnoreRx is designed to prevent common body pain associated with this problem. It will reduce pressure in your jaw which could eventually lead to tendonitis in your mouth.
It is Customizable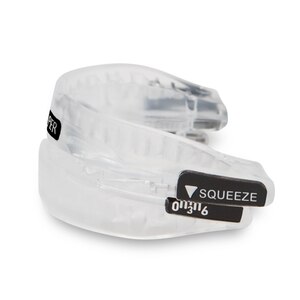 Another benefit of SnoreRx is that it is customizable. When you first use your SnoreRx, you need to first boil the device in hot water and then bit into it. This will create a mold unique to your mouth so it fits in your mouth well. This will keep the mold from sliding around in your mouth so it works well at preventing you from snoring.
If necessary, you can also re-boil the device and mold it again. This can help to ensure that the device will be comfortable for you to wear.
It is Comfortable
Many often forgo using anti-snoring devices because they tend to be a little uncomfortable. The good news is SnoreRx is designed to be comfortable to wear. It's made of soft plastic and copolymer which creates a cushion around your teeth. This prevents not only snoring, but tension and jaw grinding as well. This way, you can enjoy a good night's sleep without fears of waking up in the middle of the night due to severe snoring or pain.
It is Adjustable
You'll also find that this product is adjustable. In fact, SnoreRx will move about one millimeter on its own to help keep your lower jaw forward when you sleep. However, you can re-adjust this if necessary if the movement isn't comfortable for you. This can be done with a small lock that is built into the device. The lock is easy to use and works gently to move your jaw, so you will barely notice it moving your lower jaw out.
Keep in mind that it is important to use the SnoreRx consistently at least 3-5 times for best results. This will ensure that the SnoreRx works well at helping to stop your snoring. Eventually, this will "train" your lower jaw so that you no longer have to use the device to prevent snoring.
It is Made with High-Quality Materials
SnoreRx is made with high-quality materials that work to ensure that this device lasts you for many years. It uses FDA-approved medical plastic which is made to be durable and will prevent small pieces from breaking off, a common problem with similar options. In addition to this, the SnoreRx is made without latex so those with latex allergies or sensitive skin/gums can use it without problems.
It is a Non-Prescription Option
Many similar snoring devices often require that you have a prescription in order to use them. The good news is that SnoreRx doesn't require you to have one. Because of this, you can instantly buy one and start using it whenever you want.
It Helps You to Breathe Better
Another benefit of the SnoreRx is that it helps you to breathe better. This is due to its max flow feature which slightly opens your mouth to encourage better airflow. The front of SnoreRx uses a V-shape opening in the front which helps your mouth stay in its natural position but keeps your upper and lower jaw slightly open to help with better breathing when you sleep.
It is Affordable
Unlike many other similar anti-snoring devices that can cost hundreds of dollars, SnoreRx is affordable. In addition to its affordability, it also has plenty of features and benefits to help with stopping your snoring problem. If you're not quite sure whether this device is right for you to use, it also comes with a free trial run for 30 days. This way, you can make sure whether your investment will be worthwhile.
It is Safe to Use
Many are often a little skeptical at first to use snoring devices such as these as they are concerned they could be a choking hazard. The SnoreRx is not a choking hazard and is made only with four large pieces. Because of this, you can be sure that you can sleep safely with it.
You Can Easily Clean it Off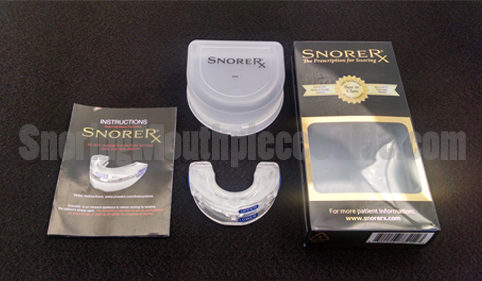 It's important to clean the SnoreRx off after each use to prevent a build-up of bacteria. However, doing so is extremely simple. All you need to do is use a clean toothbrush on it and brush it over the mouthguard.
Alternatives to SnoreRX Ant-Snoring Mouthpiece
For those who aren't sure whether or not the SnoreRx is right for them, you could instead consider these three alternatives.
PureSleep Snoring Mouthpiece
The PureSleep Snoring Mouthpiece is an anti-snoring device made of dual-polymer and works to keep your mouth slightly open when you're sleeping. This option adapts to everyone's mouth making it a customizable option. In addition to this, it comes with a carrying case.
PureSleep Snoring Mouthpiece
It comes with a carrying case.
It's customizable.
It's not as durable as the SnoreRx.
If you're looking for an affordable anti-snoring device that is easy to use, this mouthpiece might be ideal. However, keep in mind it might not be the most durable.
SuSuaHome Nose Vents
The SuSuaHome Nose Vents come with four reusable pieces that are designed to be placed into your nostrils to help keep your airways open when you breathe. This product is made with medical-grade silicone and work to also prevent common pain caused by snoring, such as insomnia and TMJ.
SuSuaHome Nose Vents
It's affordable.
It comes in four different sizes.
They might cause your nose to make a whistling noise when you breathe.
The SuSuaHome Nose Vents are a compact and easy option for snorers. While they might take some time to get used to, they are an affordable product to invest in.
XmnDaue Anti-Snoring Device
The XmnDaue Anti-Snoring Device is a product that you insert into your nose. It features two nose plugs which are attached to a small filter which helps to ensure you breathe in clean air. You do need to recharge the device so that it runs at night.
XmnDaue Anti-Snoring Device
It helps you to breathe in clean air.
You need to make sure it is charged up in order for the device to run.
It comes in different color options: red, white, and blue.
If you're looking for a way to help you breathe better at night, definitely consider this device. However, it does need to be charged and could be a little uncomfortable to use at first. Despite this, it will ensure that you breathe in clean filtered air to help prevent snoring.
Conclusion
Snoring is a huge problem that not only can cause insomnia but many different types of pain as well. Because of this, the SnoreRx can be helpful to use. It's not only made with durable materials but has a unique design that works to eventually train your body to stop snoring. If you're interested in learning even more about this product, you can click here.